ESOT signs agreement with Dendrite Clinical Systems for a web-based registries platform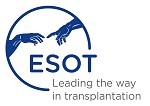 The European Society for Organ Transplantation (ESOT) has signed an agreement to develop a series of web-based registries on organ transplantation with Dendrite Clinical Systems Ltd. The Council of the European Society for Organ Transplantation took the decision to partner with Dendrite after a rigorous, competitive tender process. Under the agreement, Dendrite will work closely with ESOT to design, develop and implement a modular platform to integrate user-friendly registries that will facilitate clinical and patient reported outcome data collection, analysis, reporting and research covering all transplant domains.
"We are delighted to see this project take shape," commented Professor Gabriel Oniscu, ESOT President Elect. "The partnership with Dendrite Clinical is a major step towards establishing a multi-registry platform in Europe that will promote clinical and scientific exchanges and collaborations and for the first time, collect patient reported outcomes. This will be a unique resource for all transplant stakeholders."
ESOT is dedicated to the pursuit of clinical and research excellence and improving patient outcomes. Its core mission is to promote the sharing of scientific information and building of evidence-based international practice, policies and guidelines. To fulfil these aims, ESOT will establish a professional platform to host pan-European registries on transplant recipients and living donors. The registries will be available to competent authorities and transplant centres willing to join ESOT in this pan-European effort.
The ESOT registries platform will initially host four registries and will be designed to easily integrate additional registries. In the second phase of the project, a Patient Portal will be developed to facilitate the collection of patient reported outcomes. The first registries are:
The European Liver Transplant Registry (ELTR)

The European Pancreas and Islets Transplant Registry (EPITR)

The European Kidney Recipient Registry (EKRR)

The European Living Donor Registry (ELDR)
"We are very proud to have been selected to partner with ESOT to create a platform to host a series of registries. Our unique, flexible 'Intellect-Web' registry software is the ideal platform for the implementation of such complex registries, as it allows multi-registries within the same system, such as transplant candidates, transplant recipients and living donors," explained Dr Peter Walton, Managing Director of Dendrite Clinical Systems. "By collecting and recording data on organ transplantation across Europe, we believe researchers will be able examine the treatment of every patient and, where appropriate, recommended changes to improve clinical outcomes. We look forward to working with ESOT on this very exciting project."
This project is supported by the European Commission.
For more information about the ESOT registry project, please contact Dr Daniele Roppolo (daniele.roppolo@esot.org) or Chiara Parisotto (chiara.parisotto@esot.org)
About the European Society for Organ Transplantation
The European Society for Organ Transplantation (ESOT) was founded nearly 40 years ago and is dedicated to the pursuit of excellence in organ transplantation. Facilitating a wealth of international clinical trials and research collaborations over the years, ESOT remains committed to its primary aim of improving patient outcomes in transplantation. With a community of over 8,000 members from around the world, ESOT is an influential international organisation and the facilitator of the biennial congress which hosts approximately 3,500 experts who come together to meet, explore and discuss the latest scientific research. ESOT attracts the foremost transplantation experts to work in its committees and sections, and has an impressive track record in supporting research, professional education, and promoting changes in European policy, to improve outcomes for patients requiring and undergoing organ transplantation.
Further information: www.esot.org
About Dendrite Clinical Systems
For nearly 30 years, Dendrite Clinical Systems' specialist clinical databases have enabled the international healthcare community to gather important clinical data to improve patient outcomes and professional practice. The company has developed more than 200 national & international registries that have collected data on patients, disease groups, procedures, medical devices, pharmaceuticals & therapeutics, and the company's flexible "Intellect-Web" software can be adapted to any clinical scenario.
Further information: www.e-dendrite.com
To find out more, please click here