Dendrite Clinical Systems and BSACI publish First BSACI Registry for Immunotherapy Report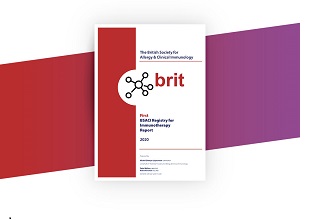 Dendrite Clinical Systems and the British Society for Allergy & Clinical Immunology () have published the 'First BSACI Registry for Immunotherapy Report (2020)'. The report is believed to be the first national registry report that has collected, analysed and documented the outcomes for patients receiving allergen immunotherapy to aeroallergens and venom, as well as omalizumab for chronic urticaria, anywhere in the world. Data for the report was collected and analysed via the British Registry for Immunotherapy (BRIT) - a web-based patient registry that utilised Dendrite's "Intellect-Web" software - to record immunotherapy treatment of patients under the care of BSACI consultants practicing in the UK.
"We are delighted to have published the first national immunotherapy registry report in the UK. This truly is a milestone moment for the society and its members, and I would like to congratulate BSACI's consultants for their significant achievement," said Dr Peter Walton, Managing Director of Dendrite Clinical Systems. "The registry has monitored the efficacy of immunotherapy enabling the BSACI to guide commissioning of services and guideline development. This latest report again underlines the value of clinical registries when collecting real-world data - these registries do clearly influence and change clinical practice."
BRIT Registry
Launched in October 2018, BRIT records the use of Allergen Immunotherapy (AIT) by both subcutaneous and sublingual immunotherapy routes (also known as SCIT and SLIT), venom immunotherapy (VIT) and the use of the monoclonal antibody Omalizumab (OMA) for Chronic Spontaneous Urticaria (CSU) in patients under the care of BSACI registered consultants. The BRIT Registry has a built-in e-PROMS module that enables patients to enter data into BRIT remotely, helping consultants keep track of their patients and monitor their response to treatment by using email PROM reported directly by participants.
"The BRIT registry is an extraordinarily important opportunity to harness this power for the good of our patients and it is critical that we all see it as our responsibility to play a role in this," Professor Adam Fox, President of BSACI, wrote in the Report. "This report is a fantastic start at demonstrating just what we can achieve. I look forward to all of us being active contributors to what will no doubt be considered, in a few years' time when we look back, as a real watershed moment for our specialty."
Key findings from the report include:
The registry had 101 registered consultant users from 65 different centres and there were 580 participants, the vast majority from England, both inside and outside the greater London area

96% of participants had agreed to email contact with the registry to return quality-of-life data during and after treatment

455 were receiving aeroallergen allergen immunotherapy for seasonal and perennial allergic rhinitis with grass pollen, tree pollen and house dust mite the most common allergens treated

99% allergen immunotherapy patients had prior testing to confirm the allergens to be used for treatment

Sub-lingual immunotherapy was the treatment route in 84% of allergen immunotherapy participants

Asthma is a relative contraindication for allergen immunotherapy: 160/455 participants had asthma with 31% treated at British Thoracic Society step 3 or above

Of the 50 cases that had stopped allergen immunotherapy, only 9 reported that this was for a reason other than the completion of the treatment course.

103 participants received venom immunotherapy (VIT), the majority for moderate or severe allergic reactions to stings. Reaction to wasp venom was more common amongst the participants than reaction to bee venom by a ratio of 2:1; and

20 participants were registered for omalizumab treatment for Chronic Spontaneous Urticaria (CSU).
BRIT is funded by unrestricted grants from AlK Abello, Allergy Therapeutics and Stallergenes, and Dendrite and BSACI would also like to thank Lynne Regent, CEO of the Anaphylaxis Campaign, and Amena Warner and Carla Jones, CEO of Allergy UK for their support of the Registry.

To view the BRIT Report, please click here
To view the BRIT registry page, please click here