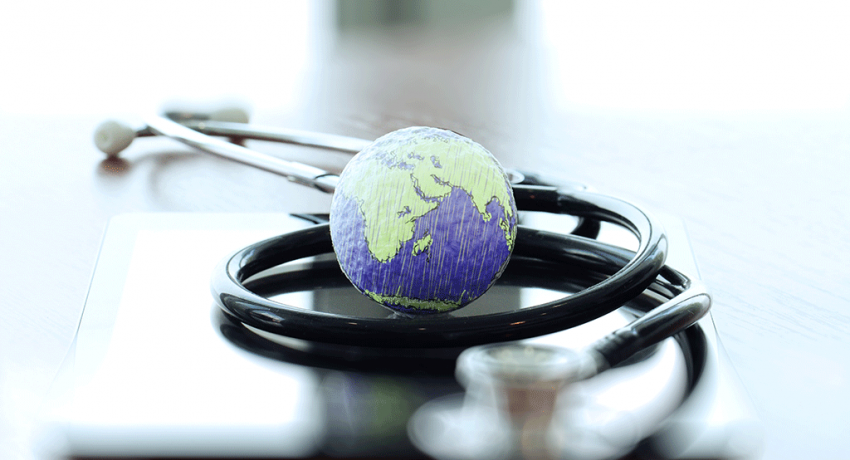 National and International Registries
Registries are an invaluable source of data for research  for the identification of national and international standards for outcomes, as well as enabling prospective audits for assessing professional performance, case mix, severity of illness and outcomes. Registries allow the collection of 'real world' data facilitating effective clinical governance and audit, allowing healthcare professionals to make informed decisions and improve patient outcomes.
The real world impact
Implementing a clinical registry will deliver a profound effect on your clinical practice, providing the means for you to better understand patient sub groups, their behaviour, disease progression and response to therapeutic intervention. Many of our clients use risk stratification models at the point of care to guide their clinical decision making.
Anywhere, anytime
Giving you the right information, at the right time, Dendrite clinical registries are accessed via a standard web browser, where information can be entered and extracted securely, from any location.
Why use Dendrite's software solution?
Maintain patient anonymity and confidentiality (safe and secure)
Time saving compared to paper-based systems
No need for additional data input
Data validation
Cost-effectiveness
Speed of recruitment
Increases efficiency
Simplifies the data collection process
Features
Dendrite's unique clinical database system includes four types of analytics and reports:
Visual dashboard
Flexible data analysis tools
Data export and filtering
Clinical documents (such as operation notes and discharge summaries)
The Visual Dashboard facilitates real-time data analysis dashboard reflecting the required analysis/reporting needs.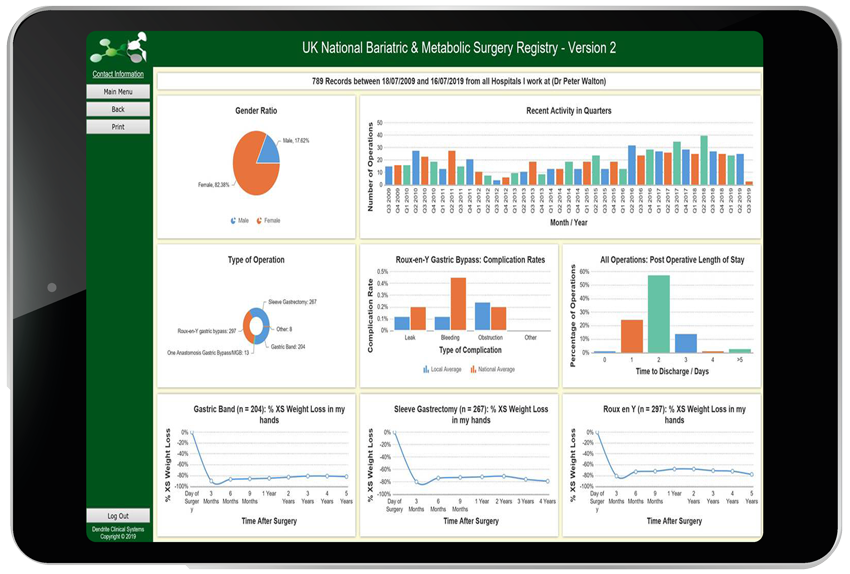 Dendrite's system incorporates exceptional data analysis tools allowing users to easily build their own visual analysis graphs with their data including:
Building (and saving) new graphs
Modifying existing graphs (excluding/filtering data)
Creating different patient cohorts
Automatically calculating key statistical values (e.g. median, σ, percentile, shift, etc.)
Saving and exporting graphs/tables in various formats (PDF, PNG, JPG, SVG and XLS) e.g. for reports, presentations.
This tool includes several modules to build different types of graphs, including:
Distribution analysis (analysis by one field, e.g. age distribution)
Cross-tabulation (analysis by two fields, e.g. age by gender)
Multi-cohort analysis (graphs combining multiple cohorts)
Run analysis
Shewhart analysis
XmR
CUSUM analysis
VLAD
Actuarial curves
Funnel plots
Timelines
Events analysis
The Dendrite system also includes an in-built Web Intellect Report Editor (WIRE) tool enabling the local Database Administrator at the hospital to build templates for local clinical documents such as discharge letters, operation reports – allowing clinicians to automatically generate these documents for patients at the point of care.
Automated E-Mailer PROMS module - at designated time intervals, the registry software can automatically send a secure personalised message to patients (who have provided their e-mail address and have consented to be followed up by e-mail) and they receive a PROMS questionnaire to complete on their smart-phones, iPads or computers anywhere in the world (provided they have Internet access) and the data returns automatically to the registry.  
Some of the key features of our bespoke registries include:
Comprehensive tracking of procedures.
Intuitive data capture with on line data validation.
Import Manager Module allows the importation and merging of legacy data from a variety of different database systems.
A "Download Document" option that allows users to download pdf. copies of the dataset questions, training manuals and other useful information.
"Export my Data" - this feature allows users to extract their submitted data at any time to report/perform their own analysis. This ensures registrants have at all times easy access to their own data.
Secure username and password access.
Please contact us if you wish to learn more about our clinical databases and registries.