Dendrite installs another Bariatric Surgical Registry software system into the seventh hospital in Kuwait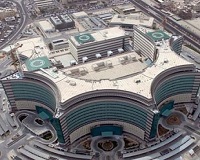 Dendrite Clinical Systems has announced the installation of its National Bariatric Surgical Registry software at the Sheik Al Jaber Al Sabah Hospital, in Kuwait.  The Sheik Al Jaber Al Sabah Hospital, opened by His Highness the Amir Sheikh Sabah Al-Ahmad Al- Jaber Al-Sabah in November 2018, consists of five towering 10-stories structures built on a 220,000 square meters and has a hospital bed capacity of around 1,160 with 36 operation rooms, a medical centre, a helipad and a parking lot accommodating some 5,000 vehicles. The facility also has outpatient clinics and basic medical services such as radiology, laboratories, and nuclear medicine will be available to the masses next week.

The National Bariatric Surgical Registry software facilitates the collection, recording and analysis of patient and procedural data from all bariatric procedures performed at the hospital including baseline demographic data, procedure type (including OAGB/MGB), all complications that might occur and also notes the severity of post-op complications (using the Clavien-Dindo classification). The system also takes into account the use of gastric balloons so that a subsequent first surgical procedure becomes a Primary Procedure and does not appear as a revision. Furthermore, there is a dedicated subset of paediatric questions, for those centres operating on younger patients, which only appears if the age at operation is below 18 years of age.

The software has an incorporated Timeline offering a visual representation of surgical events and follow up in a time sequence and highlights key missing data, as well as displaying a Weight Loss hart on screen for each patient to view their timeline. The registry software is html-5 compliant system, which will run on Safari (for a Mac, iPad or PC), Firefox, Chrome and the latest version of Internet Explorer (Version 10 and above).