Dendrite Business Update – May 2020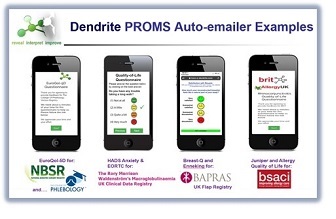 "I am very pleased to report that demand for the Dendrite Web-Registry platform has reached an all-time high" Dr Peter Walton, Managing Director of Dendrite Clinical System. "We're receiving new orders for new national and international registries every few days now – for surgical registries, medical registries, rare disease registries, medical device registries and Coronavirus Registries (for a range of Community, National, International and Global Covid-19 Registries)."
"Over 90% of our new web-registry orders include our innovative e-PROMS module that enables patients to enter data into registries remotely". The automated e-PROMS module can automatically send (at designated time intervals) a secure personalised message to appropriately consented patients and they can complete a PROMS questionnaire on their smart-phones, iPads or computers anywhere in the world (provided they have Internet access) and when completed, the data returns automatically to the registry.
"We have instituted over 35 different PROMS instruments ranging from generic outcome Euroqol EQ-5D type questionnaires, to a very wide range of disease or treatment specific PROMS instruments such as the Breast Q for breast reconstruction with DIEP/SIEA flap, the Atrial Fibrillation Severity Score and the Multiple Sclerosis Quality of Life MSQoL-54 questionnaire," Dr Walton added. "A great benefit of our e-PROMS module is that essentially the patient is doing the work of data collection and the data just streams in. The e-PROMS module is guaranteed to provide safe and secure patient data collection, and we look forward to working with all our current and future customers to help them develop and expand PROMS data collection."
Patient Reported Outcome Measures (PROMs) are standardised, validated instruments or questionnaires that are completed by patients to measure their perception of their functional well-being and health status, and patients rate their health by scoring the severity or difficulty in completing certain tasks or routine activities.  Dendrite's flexible innovative e-PROMS module can be adapted include bespoke instruments across the whole spectrum of clinical scenarios, whilst maintaining patient anonymity and confidentiality, ensuring data validation, increasing efficiency and simplifying the data collection process).