Bariatric News issue 35 now available online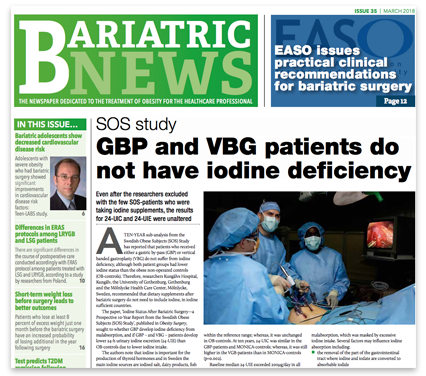 Dendrite Clinical Systems, the publisher of Bariatric News, is pleased to announce issue 35 of the newspaper is now available to view/download. The newspaper reports on research, technology, events and policy in the bariatric specialty, the latest clinical studies, policy changes and product news, the latest meetings and events, interviews prominent bariatric experts, and host debates between specialists on controversial topics.
In this issue,  ten-year sub-analysis from the Swedish Obese Subjects (SOS) Study has reported that patients who received either a gastric by-pass or vertical banded gastroplasty do not suffer from iodine deficiency, although both patient groups had lower iodine status than the obese non-operated controls. There is also articles that shows adolescents with severe obesity who had bariatric surgery showed significant improvements in cardiovascular disease risk factors and that there are significant differences in the course of postoperative care conducted accordingly with ERAS protocol among patients treated with LSG and LRYGB. Researchers from University College London have developed a new simple test that helps predict which people with T2DM will benefit most from bariatric surgery.
This issue also includes meeting reports, product and industry news, and conferences and meetings summary, as well as a summary of the news for the bariatric specialty.
Please click here to read issue 35.