Bariatric News issue 37 now available online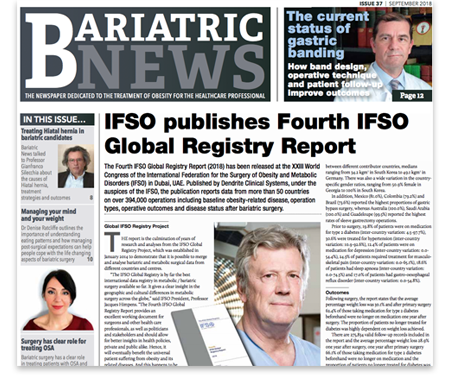 Dendrite Clinical Systems, the publisher of Bariatric News, is pleased to announce issue 37 of the newspaper is now available to view/download. The newspaper reports on research, technology, events and policy in the bariatric specialty, the latest clinical studies, policy changes and product news, the latest meetings and events, interviews prominent bariatric experts, and host debates between specialists on controversial topics.
In this issue, we report that the Fourth IFSO Global Registry Report (2018) has been released at the XXIII World Congress of the International Federation for the Surgery of Obesity and Metabolic Disorders (IFSO) in Dubai, UAE. Published by Dendrite Clinical Systems, under the auspices of the IFSO, the publication reports data from more than 50 countries on over 394,000 operations including baseline obesity-related disease, operation types, operative outcomes and disease status after bariatric surgery.
Bariatric News talked to Professor Gianfranco Silecchia about the causes of Hiatal hernia, treatment strategies and outcomes. In addition, Dr Denise Ratcliffe outlines the importance of understanding eating patterns and how managing post-surgical expectations can help people cope with the life changing aspects of bariatric surgery. The newspaper also reports that bariatric surgery has a clear role in treating patients with OSA and should be routinely recommended for curative benefit in patients with morbid obesity and that researchers have developed an oral agent to temporarily coat the intestine preventing nutrient contact with the lining in the proximal bowel and avoid post-meal spikes in blood sugar.
This issue also includes meeting reports, product and industry news, and conferences and meetings summary, as well as a summary of the news for the bariatric specialty.
Please click here to read issue 37.