Dendrite and UK research groups launch MASCOT Registry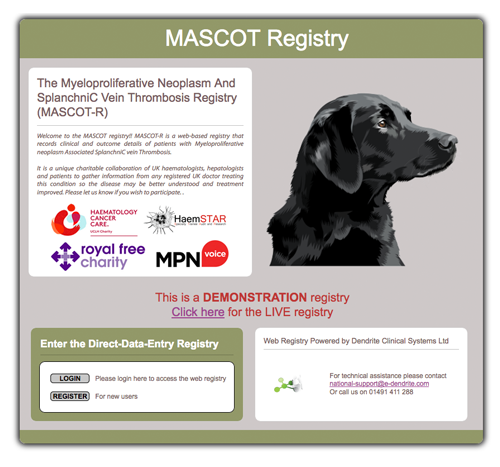 Dendrite Clinical Systems – in collaboration with Haemotology Cancer Care (UCLH Charity), the Royal Free Charity, HaemSTAR (an organisation researching non-malignant haematology) and MPN Voice – have launched the MASCOT (Myeloproliferative Neoplasm Splanchnic Vein Thrombosis, MPN-SVT) Registry, a UK wide registry for patients with myeloproliferative diseases suffering from splanchnic or abdominal vein thrombosis.
Myeloproliferative neoplasms are a group of hematopoietic stem cell disorders characterised by clonal proliferation of myeloid-lineage cells. Arterial and venous thromboses are a major cause of morbidity in Ph-negative MPNs. Venous thrombosis may occur at unusual anatomic sites, such as splanchnic vein thrombosis or cerebral sinus thrombosis. SVT refers to thrombosis formation in the portal venous system (portal vein thrombosis, PVT), hepatic venous system Budd-Chiari syndrome (BCS), splenic venous system or mesenteric venous system1.
This prospective web-based patient registry that will collect, record and analyse the treatment and outcomes of patients with this condition.
 "We are delighted to launch the MASCOT Registry," said Dr Peter Walton, Managing Director of Dendrite Clinical Systems. "Myeloproliferative neoplasms are the most common underlying prothrombotic disorder found in patients with splanchnic vein thrombosis and the registry will provide valuable information on how to manage this prothrombotic disorder.
To better understand current practice, this online registry was developed by Dendrite using their "Intellect Web" software. This allows users to enter patient data online, using a range of modern html-5 compatible web browsers, without the need to install additional software or perform any complex system configurations.
Reference
Ther Adv Hematol. 2017 Mar; 8(3): 107–118.