Dendrite and Queen Mary Hospital (Hong Kong) launch Asian Hypospadias Outcome Registry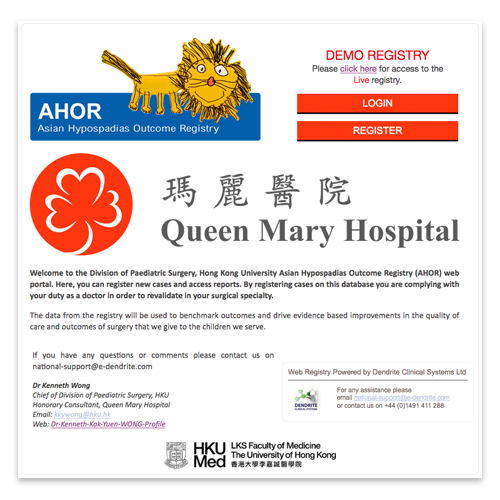 Dendrite Clinical Systems and the Queen Mary Hospital in Hong Kong have launched the Asian Hypospadias Outcome Registry (AHOR), is a prospective web-based patient registry that will collect, record and analyse the treatment and outcomes of patients undergoing surgical repair.
Hypospadias is one of the most common congenital anomalies in males, in which the opening of the urethra is on the underside of the penis. The condition is typically characterised by proximal displacement of the urethral opening, penile curvature, and a ventrally deficient hooded foreskin. In about 70%, the urethral meatus is located distally on the penile shaft; this is considered a mild form that is not associated with other urogenital deformities. The remaining 30% are proximal and often more complex1. The prevalence is highest in North America, 34.2 per 10,000 births (range 6–129.8) and lowest in Asia, i.e., 0.6–69 per 10,000 births2.
"We are delighted to launch the first hypospadias registry in Asia," said Dr Peter Walton, Managing Director of Dendrite Clinical Systems. "By collecting and recording data on procedures and outcomes, researchers from the Queen Mary Hospital will be able to determine the most effective treatment for this condition."
The data from the registry will be used to benchmark outcomes and drive evidence-based improvements in the quality of care and outcomes of surgery. Over time the registry will report on patient demographics, procedure type, length of stay, complications and functional outcomes, as well as improvements in the patients' quality of life.
To better understand current surgical practice and outcomes in Hong Kong, this online registry was developed by Dendrite using their "Intellect Web" software. This allows users to enter patient data online, using a range of modern html-5 compatible web browsers, without the need to install additional software or perform any complex system configurations. AHOR will initially be a Hong Kong registry, but there are plans to extend the registry to become a pan-Asian Registry.
References
Duckett JW., Jr Hypospadias. Pediatr Rev. 1989;11:37–42

Springer A, van den Heijkant M, Baumann S. Worldwide prevalence of hypospadias. J Pediatr Urol. 2016;12(152):e151–e157.