Dendrite's clinical database utilised for Obesity Research Biobank Syndicate registry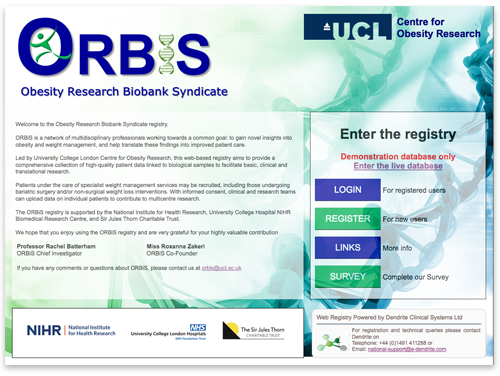 Dendrite Clinical Systems in pleased to announce its clinical database system has been selected to collect, record and analyse data from the Obesity Research Biobank Syndicate (ORBiS) Registry. ORBiS is a network of multidisciplinary professionals working towards a common goal: to gain novel insights into obesity and weight management, and help translate these findings into improved patient care.
Led by University College London Centre for Obesity Research, this web-based registry aims to provide a comprehensive collection of high-quality patient data linked to biological samples to facilitate basic, clinical and translational research.
Patients under the care of specialist weight management services may be recruited, including those undergoing bariatric surgery and/or non-surgical weight loss interventions. With informed consent, clinical and research teams can upload data on individual patients to contribute to multicentre research.
Led by Professor Rachel Batterham and Miss Roxanna Zakeri, the ORBiS registry is supported by the National Institute for Health Research, University College Hospital NIHR Biomedical Research Centre and Sir Jules Thorn Charitable Trust.
"Obesity is one of the most serious chronic conditions facing the NHS and its associated co-morbidities – such as type 2 diabetes and cancer – are known to increase mortality and decrease patients' quality of life," said Dr Peter Walton, Dendrite Clinical Systems. "We look forward to working with the ORBIS collaborators to help them gain further insights and improve our understanding into the biomedical processes of obesity."