QIST study seeks to improve outcomes after hip and knee replacement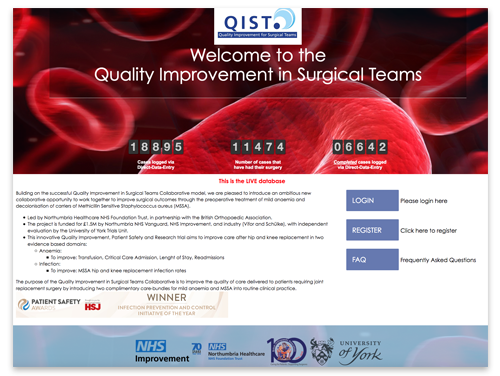 Dendrite Clinical Systems' unique and innovation clinical software is been employed for a new innovative Quality Improvement, Patient Safety and Research trial that is seeking to improve the quality of care delivered to patients requiring hip or knee joint replacement surgery by introducing two complimentary care-bundles for mild anaemia and Methicillin Sensitive Staphylococcus aureus (MSSA) into routine clinical practice.
Led by Northumbria Healthcare NHS Foundation Trust, in partnership with the British Orthopaedic Association, the £1.5 million project is funded by Northumbria NHS Vanguard, NHS Improvement, and industry (Vifor and Schülke), with independent evaluation provided by the University of York Trials Unit.
The two new care bundles have already been tested by Northumbria Healthcare NHS Foundation Trust and were shown to improve care and outcomes for patients with mild anaemia and to reduce MSSA infection rates.
Using Dendrite's "Intellect Web" software, clinicians can enter patient data online, using a range of modern html-5 compatible web browsers, without the need to install additional software or perform any complex system configurations. It is hoped that recording, collecting and analysing the data it will be possible to demonstrate that these care bundles save lives and improve outcomes so that they become routine clinical practice across the NHS.
Patients with mild anaemia are at a higher risk of needing a blood transfusion following surgery and of other post-operative complications. However, evidence has shown that by using a care bundle – which includes interventions such as screening and treating those who need it with iron – has improved outcomes for patients.
These interventions have already been scaled up to 9,000 patients at Northumbria Healthcare resulting in huge benefits for patients such as reduced blood transfusions, critical care admissions, length of stay and readmissions. There are financial benefits too, with savings of £160 per patient which for an average sized trust equates to about £120,000 a year.
Northumbria Healthcare has adapted a MSSA care bundle to specifically meet the needs of patients having joint replacement surgery. Before and after data for the 9,000 patients cared for at Northumbria Healthcare shows that interventions such as screening are making a real difference.
"We are delighted to be involved in this very important study that may lead to substantial improvements for patients undergoing joint replacement surgery," said Dr Peter Walton, Managing Director of Dendrite Clinical Systems. "By assessing the effectiveness of these new interventions, as well as leading to improvements in outcomes for patients, the research could lead to considerable cost-savings for the NHS. We look forward to working with the researchers on this exciting project."