Dendrite and BSACI launch BRIT immunotherapy registry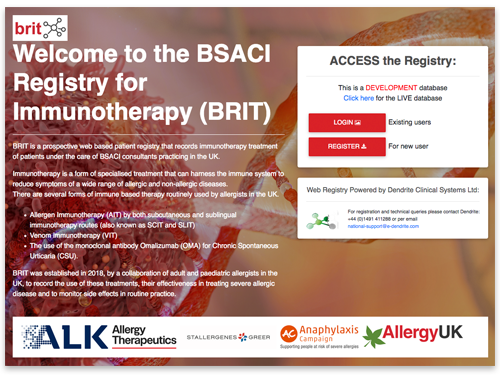 Dendrite Clinical Systems and the British Society for Allergy & Clinical Immunology (BSACI) have launched the British Registry for Immunotherapy (BRIT), a web-based patient registry that records immunotherapy treatment of patients under the care of BSACI consultants practicing in the UK.
"We are delighted to launch the first national immunotherapy registry in the UK," said Dr peter Walton, managing Director of Dendrite Clinical Systems. "By recording each and every serious adverse event during immunotherapy treatment, the BSACI we will be able to monitor the efficacy of immunotherapy enabling the BSACI to guide commissioning of services and guideline development."
BRIT is a secure web-based registry that can record the use of Allergen Immunotherapy (AIT) by both subcutaneous and sublingual immunotherapy routes (also known as SCIT and SLIT). By venom immunotherapy (VIT) and the use of the monoclonal antibody Omalizumab (OMA) for Chronic Spontaneous Urticaria (CSU) in patients under the care of BSACI registered consultants. It will help consultants keep track of their patients and monitor their response to treatment by using email PROM reported directly by participants. It will also monitor safety and access to treatment around the UK.
To better understand what the current practises are in the UK, an online registry was developed by Dendrite using their "Intellect Web" software. This allows consultants to enter patient data online, using a range of modern html-5 compatible web browsers, without the need to install additional software or perform any complex system configurations.
The registry is open for all consultant BSACI members to register their practice(s) for both adult and paediatric patients.  Additional healthcare professionals in the practice can register as users under the same practice in order to input data into the registry.
The registry is funded by unrestricted grants from three companies: AlK Abello, Allergy Therapeutics and Stallergenes.