Thoracic surgery report shows large increase in thoracoscopic (VATS) resections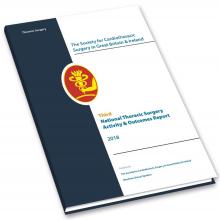 Dendrite Clinical Systems and the Society for Cardiothoracic surgery (SCTS) have published a new report that demonstrates importance collecting and analysing data from thoracic surgery. The report states that a large increase in thoracoscopic (VATS) resections is responsible for most of the recent increase in lung cancer surgery, rising from 749 cases in 2010-2011 to 2,753 in 2014-2015, an increase of more than 3.5 times. By 2014-2015, 40% of lobectomies and more than 50% of sublobar resections were performed by VATS.
"The three data sources that make up this report are all interesting in their genesis and history. The long-term success of the Thoracic Surgical Register is undoubtedly due to its simplicity and usefulness for surgeons, which accounts for it being the longest-running thoracic surgical audit project in the world," said Mr Richard Page, President of the Society for Cardiothoracic Surgery. "The SCTS will continue to champion activity and outcomes reporting, to highlight variations in practice, and to improve the care of our patients."
The report entitled, 'Third National Thoracic Surgery - Activity & Outcomes Report 2018', includes an update of the thoracic registry (with data from 1980-2015, data from the SCTS thoracic database (which ran from 2014-2017) and a pilot project reporting unit outcomes in pneumothorax and pleural sepsis surgery using Hospital Episode Statistics (HES) data.
"This report again demonstrates the continuing value clinical governance delivers, especially in terms of improving long-term patient outcomes," said Dr Peter Walton, Managing Director of Dendrite. "I would like to thank the SCTS for their support and pay tribute to all the contributors for their endeavours, without whom this report would not have been possible. We look forward to working with the SCTS in the future and publishing additional reports that will provide even greater insights into cardio-thoracic surgery in the UK and Ireland."