Dendrite and IFSO publish 4th global bariatric registry report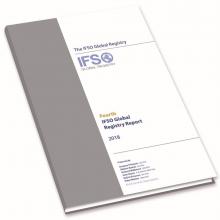 Dendrite Clinical Systems, under the auspices of the International Federation for the Surgery of Obesity and Metabolic Disorders (IFSO), has published the Fourth IFSO Global Registry Report (2018) at the federation's XXIII World Congress in Dubai, UAE. The latest report features data from more than 50 countries on over 394,000 operations including baseline obesity-related disease, operation types, operative outcomes and disease status after bariatric/metabolic surgery.
"Together with IFSO, we are delighted to publish this fourth report. I would like to thank all the contributors for submitting their data. The report is the culmination of years of research and analyses from the IFSO Global Registry Project, which was established in January 2014 to demonstrate that it is possible to merge and analyse bariatric and metabolic surgical data from different countries and centres," said Dr Peter Walton, Managing Director of Dendrite Clinical Systems. "I hope this important publication not only suggests many international research projects could be undertaken but advances the status and acceptability of bariatric and metabolic surgery worldwide, helping promote an increase in bariatric and metabolic surgery provision."
Data collection
Data collection for the Global IFSO Registry was facilitated via Dendrite's two hybrid data entry portals for online electronic submission:
"On-line data entry" is an online database portal accessible over the Internet that enables surgeons/data managers to enter cases (with anonymised patient identifiers) using a simple on-line data form with just 4 pages of questions (typically takes just 3-4 minutes to complete per patient record).
"IFSO Upload-My-Data" web portal is a proven interface designed to enable a community of surgeons or physicians to create a national or international database; even if there are different database systems at the local level, the data from each can be integrated into the central, merged registry. The platform has been successfully utilised in a number of other national and international registries (for cardiac surgery, thoracic surgery) and has been specifically tailored for the IFSO project to enable both individual centres and national registries to submit data in batches on-line.
The Fourth IFSO Global Registry Report has detailed information on:
165,138 Roux en Y gastric bypass operations (41.9% of all the records submitted)
128,417 sleeve gastrectomy procedures (32.6%)
47,858 gastric banding operations (12.1%); and
19,634 one anastomosis gastric bypass procedures (5.0%)
County-to-country analysis
Patient co-morbidities prior/after surgery
To download a summary of the Fourth IFSO Global Registry Report, please click here
To download a copy of the Fourth IFSO Global Registry Report, please click here
For more information on how to participate in the Fifth IFSO Global Registry Report via either the Upload-My-Data or Direct Data Entry route, please email Dr Peter K H Walton, Managing Director, Dendrite Clinical Systems:
ifsoregistry@e-dendrite.com