Bariatric News issue 36 now available online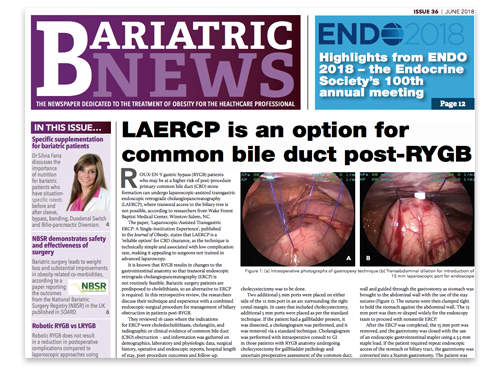 Dendrite Clinical Systems, the publisher of Bariatric News, is pleased to announce issue 36 of the newspaper is now available to view/download. The newspaper reports on research, technology, events and policy in the bariatric specialty, the latest clinical studies, policy changes and product news, the latest meetings and events, interviews prominent bariatric experts, and host debates between specialists on controversial topics.
In this issue, there is a report that gastric bypass patients who may be at a higher risk of post-procedure primary common bile duct stone formation can undergo laparoscopic-assisted transgastric endoscopic retrograde cholangiopancreatography, where transoral access to the biliary tree is not possible. Dr Silvia Faria discusses the importance of nutrition for bariatric patients who have situation specific needs before and after sleeve, bypass, banding, Duodenal Switch and Bilio-pancreactic Diversion. Elsewhere, outcomes from the UK's National Bariatric Surgery Registry shows that bariatric surgery leads to weight loss and substantial improvements in obesity-related co-morbidities. Two studies report that robotic RYGB does not result in a reduction in postoperative complications compared to laparoscopic approaches using hand-sewn or linear stapler and that BPDS results in greater weight loss vs RYGB due to larger increases in energy expenditure.
This issue also includes meeting reports, product and industry news, and conferences and meetings summary, as well as a summary of the news for the bariatric specialty.
Please click here to read issue 36.