Dendrite publishes first ever national bariatric and metabolic surgery report in the Arabian Gulf region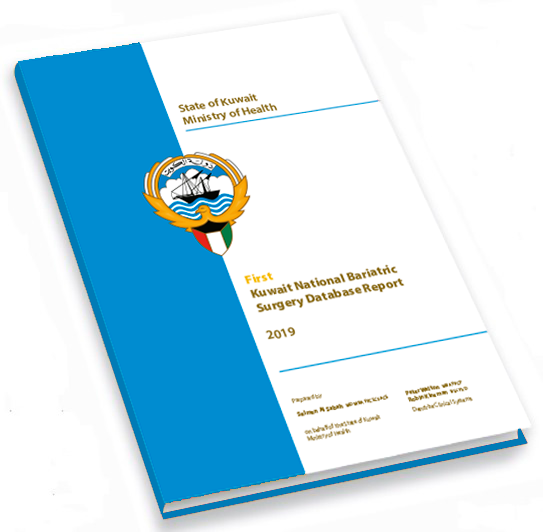 Dendrite Clinical Systems and The State of Kuwait Ministry of Health, in conjunction with Bader Sultan & Brothers Company, are pleased to announce the publication of the First Kuwait National Bariatric Registry Report 2019, the first ever national report on bariatric and metabolic surgery in the Arabian Gulf region. This inaugural report, which includes 3,302 bariatric surgery cases, contains data on baseline obesity-related disease, operation types, operative outcomes and disease status after bariatric surgery in Kuwait.
"It is with great pleasure that I commend this First Report of the National Bariatric Surgery Database made available by Dendrite Clinical Systems. This National Bariatric Surgery Database initiative is the first of its kind in the State of Kuwait," His Excellency, Dr Basel Hamoud Al-Sabah, Minister of Health, Kuwait, writes in the report. "There are only a few countries in the world that have the capability to have a unified registry under one network. Many countries maintain hospital-based registries. Even fewer countries have national databases…Therefore, we are very proud that we now have a national registry established under one network for all the government hospitals in Kuwait.
The Kuwait National Bariatric Surgical Registry utilised Dendrite's "Intellect Web" national registry software to facilitate on-line data entry. The Registry is accessed using a range of modern html-5 compatible web browsers, allowing registrants to enter data without the need to install additional software or perform any complex system configurations.
The Kuwait National Bariatric Registry currently comprises data being submitted from six public by 63 surgeons and collected data from 3,302 cases. The "Intellect Web" software recorded data on patient demographics, procedure data, outcomes, as well as information ten obesity-related conditions including: type 2 diabetes, back or leg pain, depression, impaired functional status, gastro-oesophageal reflux, raised blood pressure,  dyslipidaemia, liver disease, sleep apnoea and increased risk of deep vein thrombosis or pulmonary embolism.
"We are delighted to publish this first report and I would like to thank all the contributors for submitting their data," said Dr Peter Walton, Managing Director of Dendrite. "This report clearly demonstrates the safety and effectiveness of bariatric and metabolic surgery for treating patients with obesity in Kuwait. I hope this report will be the first in a series of ground-breaking reports that will record and analyse clinical data, and help improve patient outcomes."