UK "Blue Book" 2008 (Sixth National Adult Cardiac Surgical Database Report)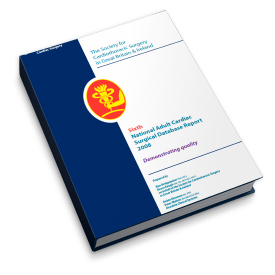 512 Pages Hardback
The Society for Cardiothoracic Surgery in Great Britain & Ireland
£100
This is a landmark document. Awarded the BMJ Group Award for the Best Quality Improvement in 2010, it represents truly comprehensive set of analyses based on the most recent version of the Society for Cardiothoracic Surgery of Great Britain and Irelands database.
Although this is the sixth iteration in this family of reports, this is the first time that there have been extensive analyses on the patients undergoing valve surgery in the United Kingdom; separate sections on aortic and mitral valve surgery detail current practice and outcomes for this ever-expanding population of patients. Coupled with a significant update on the previously-published section on coronary surgery and several other, new sections on cardiac surgery for the elderly, surgery on the aorta, other less-often performed cardiac procedures and all aspects of quality, this report provides an invaluable resource for surgeons, patients and commissioners alike. The authors chose to shift the focus of analysis away from simply examining mortality as an outcome and, instead, broadened out the scope of the report to encompass many other metrics of quality, opening up a whole new perspective on outcomes in cardiac surgery.
A section on international benchmarking, comparing data from a single hospital in Hong Kong to that from the UK, demonstrates the power and efficacy that these kinds of comparisons can have, reassuring surgeons and patients that results are in line with a recognised standard.
Click here to view sample pages of this report.